Prince Harry and actress Meghan Markle already announced their engagement at the Kensington Palace—and everyone is excited about the big royal wedding. But, no one can forget the style icon Kate Middleton, the Duchess of Cambridge, who takes her royal duties with the greatest elegance and looks exceptional at her public appearances. If you want to steal her style, keep on reading for our tips on dressing like Kate Middleton, along with budget-friendly copies of her clothing, shoes, and accessories.
1. Opt for classic style dresses
Representing the royal family of England, Duchess Kate has perfected how to dress elegantly and conservatively for her part, yet still look fashionable. She never wears anything that shows too much skin—the hemlines of her dresses are always close to the knee or below, and her style preferences provide modest coverage.
Since Duchess Kate has a remarkable classic preference in dresses, you may think of sheath dresses that will look classy for special occasions or even at the workplace. During her visit at Northolt High School in London, she wore a blue sheath dress with strategically placed panels and cinched waist that looks feminine and chic. You can get the similar dress at Heart My Closet, Amazon, or even at Etsy in a knee-length pencil skirt and slightly puffed sleeved style.
A little black dress may be a perfect option for parties, but a maxi lace dress will give you a princess perfect look. If you'd like to copy Kate's style, you can get the
Adrianna Papell dress
that's similar to the black lace dress she wore. Both maxi dresses feature long sheer lace sleeves, scalloped boat neckline, and scalloped V-shaped back.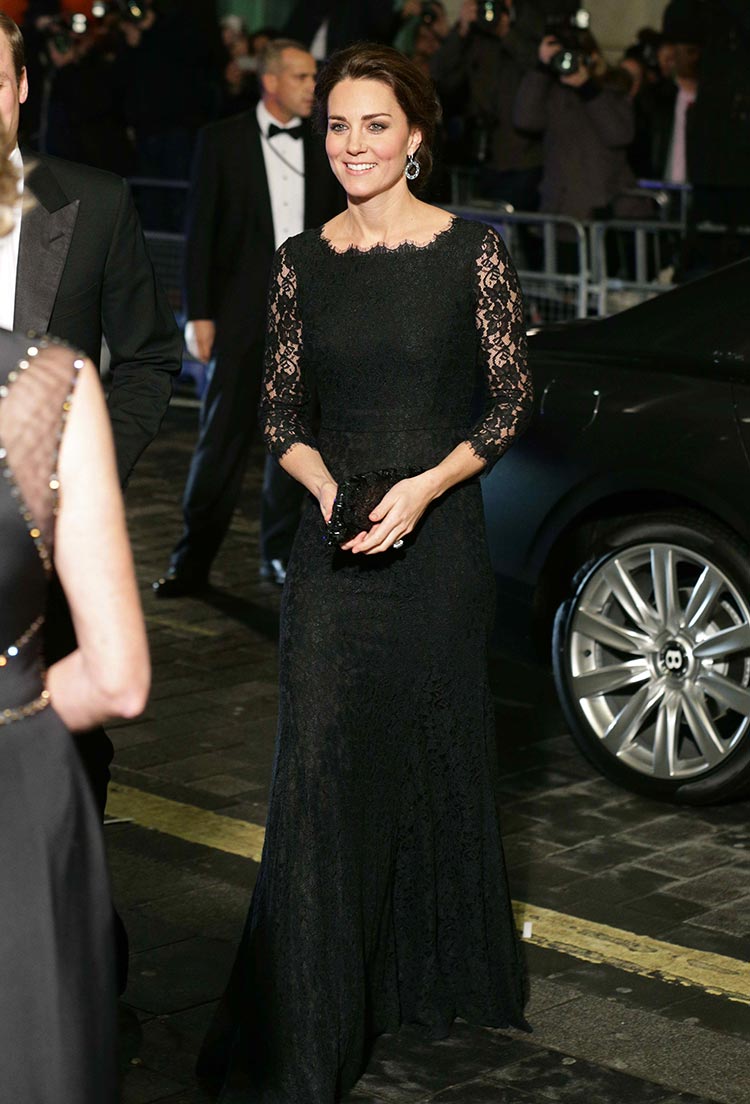 2. Select stylish yet comfortable shoes that go with everything
Nude and black heels go with everything, while wedges keep you chic while staying comfortable. Stuart Weitzman Minx wedges are known to be Kate's favorite option. During a visit to Sydney in 2014, she famously wore the camel colored cork wedges with woven straps and cork platform. If you wish to look effortlessly chic like her for less, get your pair of nude wedges at 6pm.
Also, Duchess Kate has presented the flexibility of the classic pumps on uncountable occasion. You can get a similar
pair of nude pumps
that will be versatile, classy, and sophisticated on all occasion.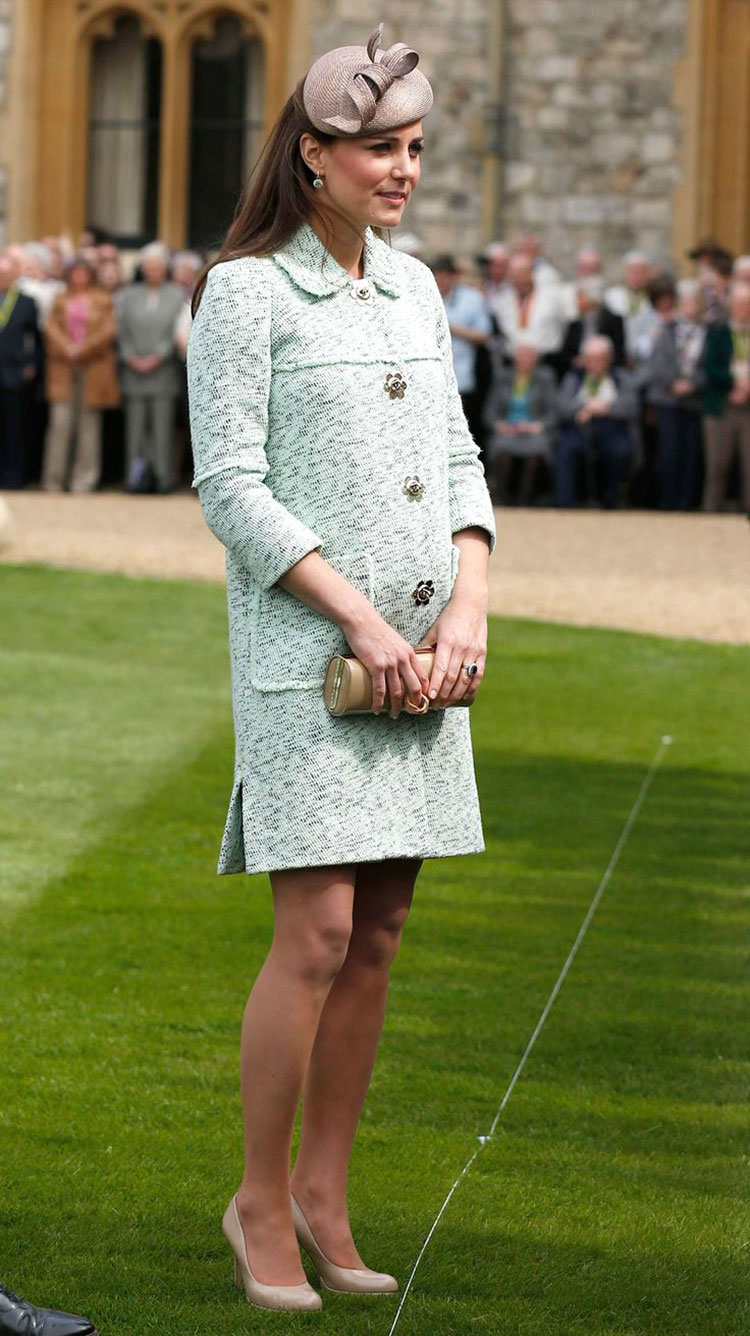 3. Embrace floral patterns and classic prints
Don't be afraid to play with color, patterns, and prints. Kate's color palette may consist of a lot of muted hues and neutrals, but she also wears pops of colors and feminine prints. She wore a chic floral-print green dress that looks fresh and sophisticated that you can get too. Have you noticed that she even highlights colors for a vibrant look? Also, think of creative prints like polka dots, checks, floral prints, and stripes that will always look polished and sleek.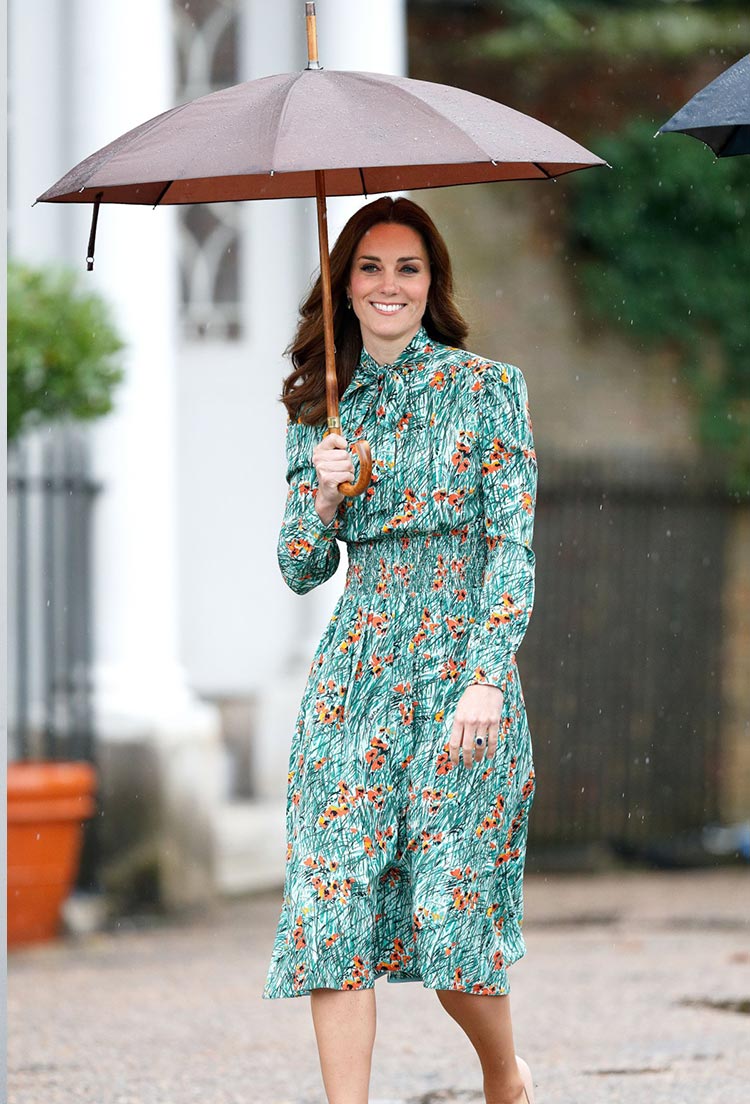 4. Dress up your looks with an elegant coat
Duchess Kate is a great fan of noble formal styles and high street fashion where she even mixes up her wardrobe with luxurious and inexpensive items. You can also do this by dressing up your inexpensive pieces with an elegant coat. When Kate wears a dress in the colder weather or a formal day, she typically pairs it with a knee-length coat.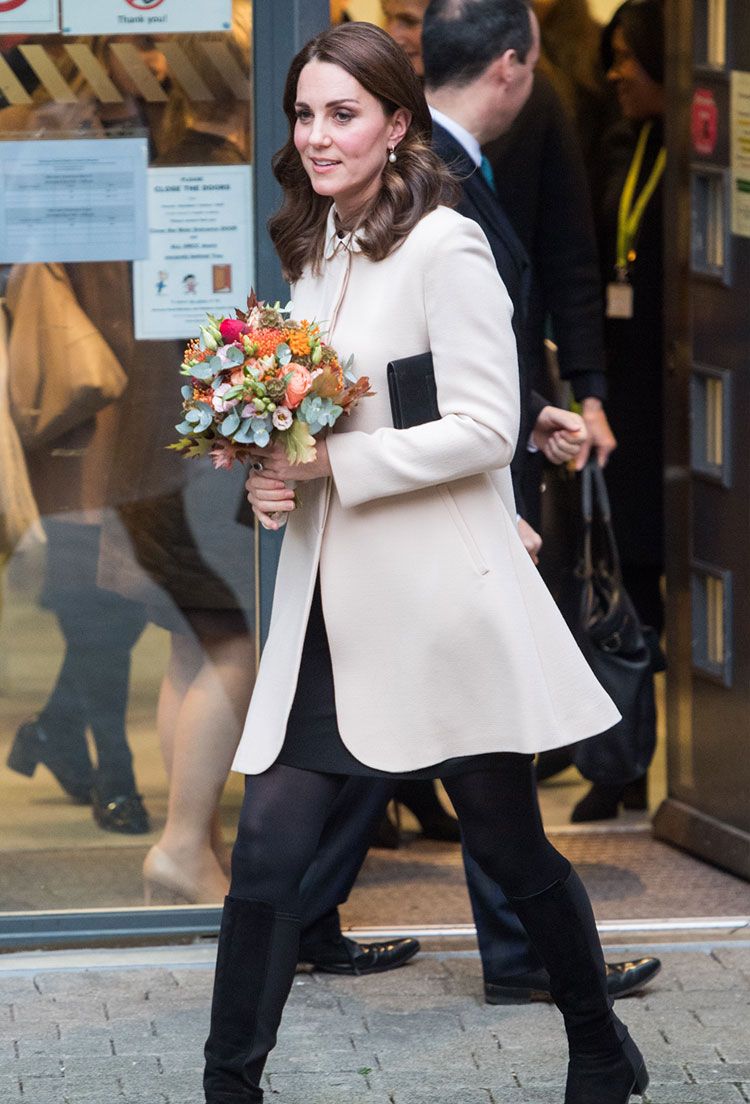 Like Duchess Kate, you may opt for a
nude colored coat
in a chic and versatile silhouette. Or, go for a
statement-making red coat
that instantly dresses up any look. Whether it's an olive green, dark navy, or bright red, she simplifies her coats with one color and creates a stunning look. With her elegantly designed coats, she inspires us how to look put together without coming off as too buttoned up. Just add some simple accessories and shoes that won't overdo the outfit.
5. Look sophisticated with classy earrings or a hat
If you wish to keep your style classy and sophisticated, opt for dainty earrings over oversized jewelry. Like Duchess Kate, you may go for jewel toned earrings to match your outfit, or stylish studs that will add some personality to your look without going overboard. Like Kate, you may even think of a pair of earrings featuring Japanese resin pearls in gold-plated stars that looks glamorous yet modest.
It's traditional for most Brits to wear stylish headwear at significant events, and Duchess Kate's hats are often the most talked-about accessories. The hat and coat dress combination is one of her most iconic looks, especially on official ceremonies and celebrations. So, complete your outfit with
a chic hat
and channel that princess-like style.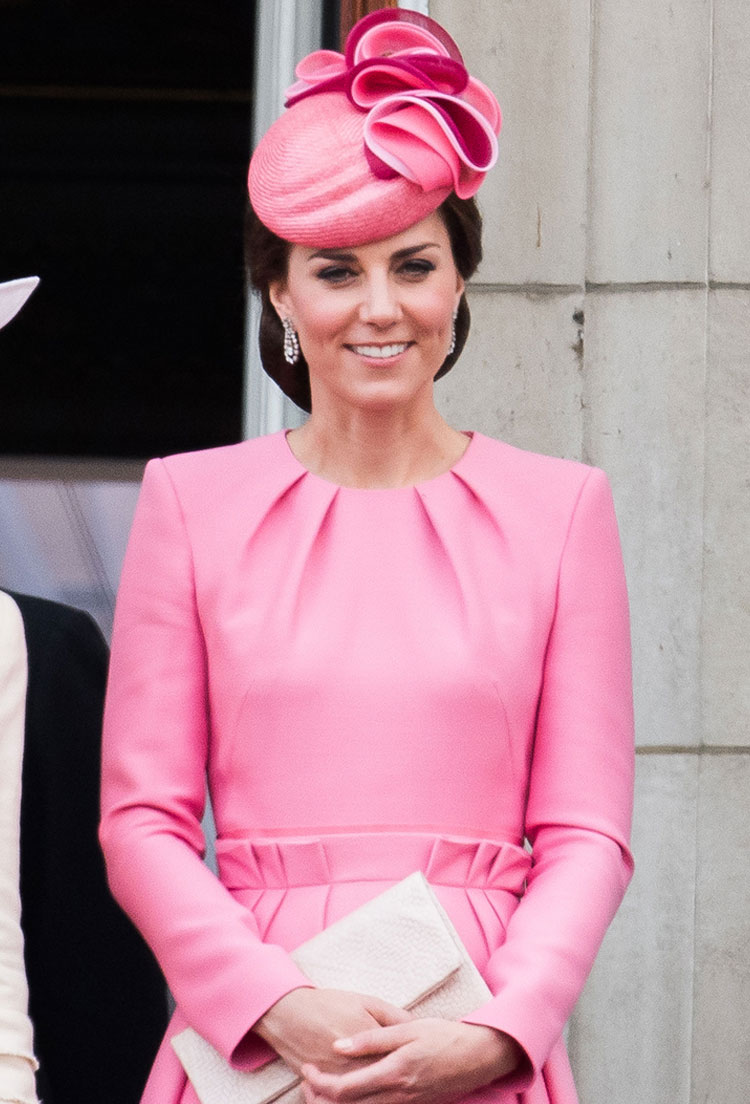 6. Keep your casual style polished with Breton striped tops and jeans
Duchess Kate manages to pull off laid-back luxury with ease. Jeans may be the most laidback piece in your wardrobe, but nobody says it can't look chic and sophisticated. Whether you're a humble civilian or a queen-in-waiting, it seems everybody needs a pair of comfortable jeans. Kate shows that jeans can be dressed up for any affair—most of the time she wears jeans paired with lovely tops in walking her dogs, and pairing them with wedges for official events. In fact, Kate Middleton regularly wears Breton striped tops, and they're a staple in her closet. Since you can wear a number of them for years, get your Breton striped tops now from Matches Fashion and ME + EM. Sometimes, she also team her cotton tops with some basic navy, brown, or black jeans.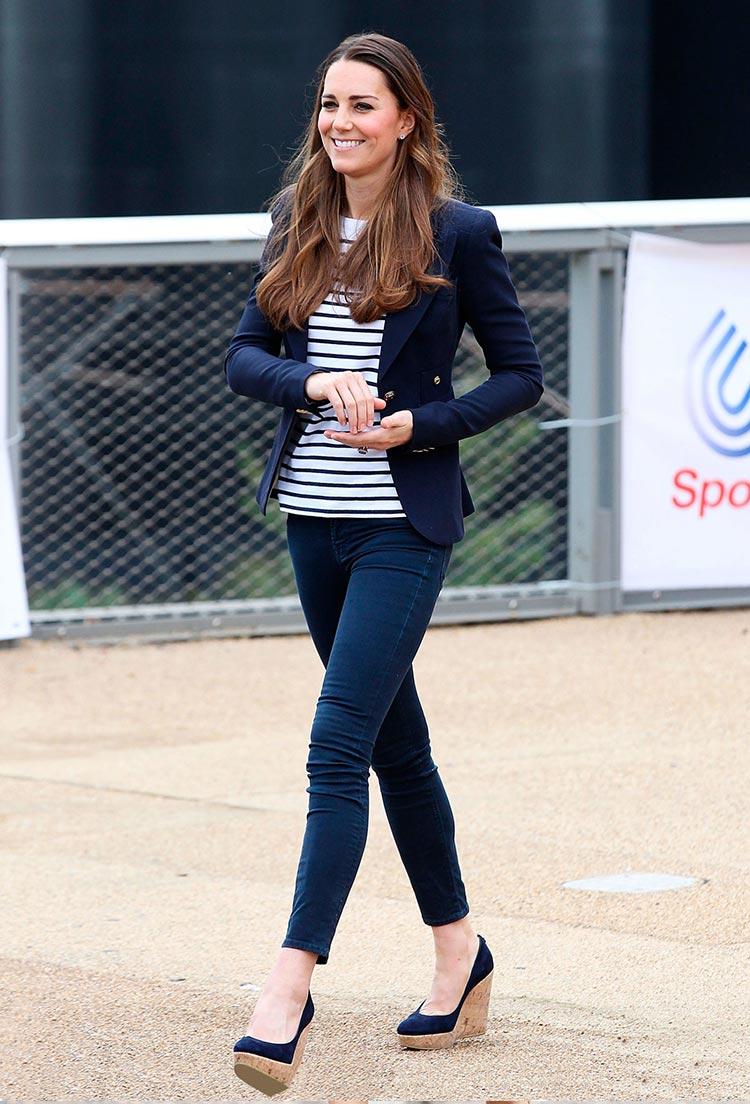 7. Tote bags are stylish and functional accessories
If you're looking for a stylish yet functional handbag, opt for tote bags as they're a Duchess favorite. Like Kate, you may think of a Quincy bag with a leather detachable strap that can be handheld, worn over the arm, over the shoulder, or even worn cross body with accompanying shoulder strap. Remember, you can refresh your old items by simply switching your bags, shoes, and accessories—a trick that Kate is fond of.
Indeed, the Duchess of Cambridge can't place a foot wrong in the fashion stakes, so let her style be your inspiration. If an outfit works, repeat it — Kate has become distinguished for recycling outfits for countless circumstances. In
Closet Love App
, you can create Kate Middleton looks that work for you on every occasion. She has been the picture of sophisticated elegance, grace, and simplicity, so create that beautiful style and turn heads every time.
Featured image taken from: https://www.royal.uk