Booking a trip is only half of the equation as travelling gives us a fashion opportunity to look effortlessly chic and creative. However, looking fashionable at the same time comfortable can be challenging. So if you're looking to up your fashion game while on the road, keep on reading for our styling tricks.
1. Opt for stylish yet comfortable footwear.
Comfort is the key when selecting shoes for sightseeing and travel days, so look for something that you can walk in, and look great in. Like fashion blogger Kristina Bazan, opt for a pair of nude loafers that look chic with an all-black outfit while keeping you comfortable. Also, you may keep things simple and efficient with a chic pair of sneakers you can slip on and off with ease—they will also work if you need to squeeze in a workout. For a more polished look, resort to wedge sandals or boots that elongate the leg, while giving you a good height and great comfort.
Image by Kateglitter
2. When it comes to travel bags, go big.
A little clutch for a road trip just won't do, so make travel look effortless with a medium-sized carry-on and a big, chic handbag. Simply go for a neutral shade that's versatile enough to wear with any outfit. Like fashion blogger Jenny Stein, a black handbag will look classy enough with an all-black outfit topped with a camel coat and boots. If you stay on a hotel, just bring a roomy tote bag that can accommodate all your essentials while you're out.
Image by Margo and Me
3. Dress up your outfits with stylish and functional accessories.
Avoid looking overdone with sparkly and eye-catching pieces, but instead go for double-duty accessories that keep you stylish. If you're heading to a tropical destination, you may go for a chic hat that protects your face from the sun, covers up your bad hair day, and dresses up your travel outfits. Like fashion blogger Kristina Bazan, think of a chic hat, a fringed bag, and a comfy pair of sandals that can keep you fashion-forward. On the other hand, a blanket scarf with a trendy print can keep you warm in the cool weather while adding some pop to your all-black outfit.
4. Go casual cool with your favorite jeans or overalls.
Jeans are a timeless option when it comes to jetsetter style. Like fashion blogger Blair Eadie, think of a pair of skinny jeans that will look polished with a striped top and a blanket scarf. Whether slightly oversized or sleek fit, overalls can give you a trendy yet comfortable look. Simply style it with an off-shoulder top, bold colored bag, and sneakers like fashion blogger Annabelle Fleur did. These staples are the most comfortable options, and both are easy to slip off when you're traveling.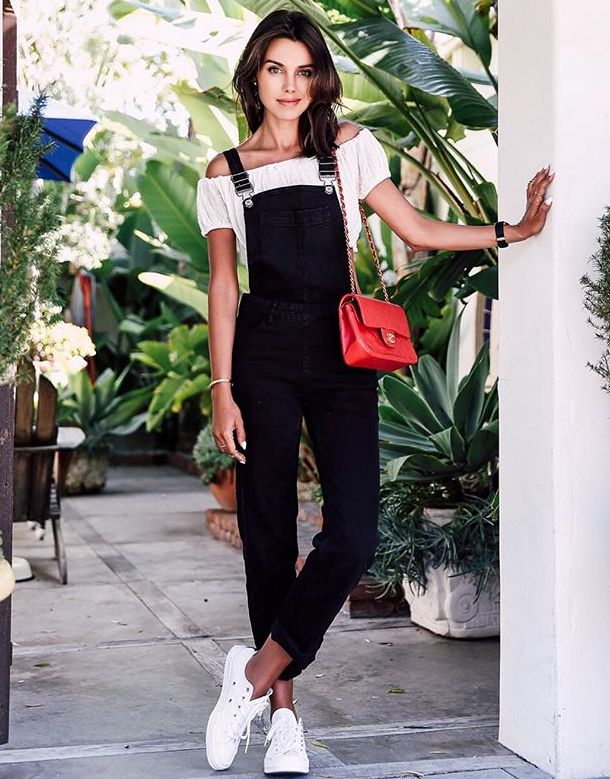 5. Go for a stylish black dress that can be dressed up effortlessly.
The key is to look for something with a bit of stretch, flatter your shape, and keep wrinkles at bay. This way, you'll have something to wear that works in the day, night, cocktails, and even around the town trip. A little black dress is a "buildable" piece that welcomes creativity. Like fashion blogger Kristina Bazan, dress it up with a leather jacket, chic scarf, statement bag, and gold-trimmed shoes to look fashion-forward when strolling the big cities. Or, go for an infinity dress that can be styled to create new silhouettes. Like fashion blogger Blair Eadie, spice up your black infinity dress with a bold colored scarf, chic crossbody bag, and lace gladiators. This way, you can be a true outfit repeater who has sense enough to look otherwise.
Image by Kayture
6. Resort to a sweater dress or a t-shirt dress for a casual-chic vibe.
A sweater dress is stylish and functional enough when temperatures drop. Like fashion blogger Mary Orton, you may opt for a gray sweater dress that will look casual-chic with a brown belt and tall boots. If you love the comfort of a t-shirt yet don't like the skimming fit of skinny jeans, opt for a t-shirt dress. A striped t-shirt dress teamed with leather slip-ons can be chic and effortless enough when strolling around the city like fashion blogger Blair Eadie wore.
7. Don't be afraid to wear bold colors.
Neutral shades may be versatile enough to wear on travel days, but that doesn't mean you can't go for bold colored pieces. Like fashion blogger Blair Eadie, a pink coat can make your travel look more feminine and chic while keeping you warm in the colder months. Or, you may even go for a bold-colored coat and skirt that will look smart and polished when traveling for business.
8. Be playful with prints and patterns.
Wearing creative prints can make your travel outfits more interesting. Like fashion blogger Blair Eadie, add some feminine flair to your classic coat with floral print pants styled with a pink scarf. If you're afraid printed ensembles can make repeating your outfits obvious, revamp them with your favorite outerwear and accessories. Wearing your geometric print dress with a denim jacket and a chic hat makes it fresh again.
9. Polish your travel outfit with a chic coat or jacket.
A chic coat, leather jacket, light cardigan, blazer, or trench coat makes your travel outfits polished and sleek. You may go for a neutral colored coat that will go well with any of your outfits. Like fashion blogger Ania Boniecka, top your nude ribbed dress with a structured gray coat to add some smart-chic vibe to your style. If you're aiming for a casual-cool look, go for a leather jacket that can revamp your denim culottes and striped top effortlessly.
Image by Aniab
10. Layer like a pro.
In cold climates, layering is a great way to re-wear your travel clothes while making them look new. The key is to pay attention to structure, texture, and proportion so you'll create a fashion-forward look. Like fashion blogger Blair Eadie, think of wearing your skinny jeans with your white collared shirt styled with a bow and trench coat, making your travel outfit editorial-worthy.
If you're already thinking of stylish outfits to wear on your vacation, Closet Love App can help you to digitize all your travel clothes and plan your holiday looks ahead of time. It has a section for holiday packer, where you can create a holiday outfit looks list. Indeed, there are plenty of ways to be comfortable without sacrificing style. So, keep these styling tricks in mind to make sure to you'll travel in style.