Who hasn't struggled buying the right pair of jeans, right wash, right amount of tear and wear that fits well is a pain and tedious for most of us. What is more painful is ending up buying something different than what was in mind, could be colour, fit or buying slightly more ruggedly distressed than going for a less distressed pair which was the plan.
Being a jean fanatic myself, tried and tested all types of jeans, I have, hands down, come down to this one fit that suits all body, short and tall frame, in all honesty this one fit ie, the Straight fit cut which will love all body types from the waist down have been scoring a brownie point when paired with any types of shoes known to mankind be it boots, heels, trainers, and with simple change of accessories and some finishing touches here and there, this humble pair can change the whole look for day to night out ready to slay the day and night with your trusty jean- Different look-different occasion-same pair of jean!
Here in closet love, we especially take care of your woes by saving your time and that extra cash which you can keep it aside to buy your favourite jeans or shoes or bag in you next shopping haul. Now what can be more practical than rummaging through one's closet and finding those pieces to pair and style like your favourite fashionistas.
Go town down looking hip and nonchalant with a straight fit raw edge denims and sneaker, just like our favourite fashionista gigi has set an example
What about going a bit of metallic with a rugged distressed jean. All hail the classic oxford, Bomber and straight torn jean. what can go wrong seeing the three together except turn heads.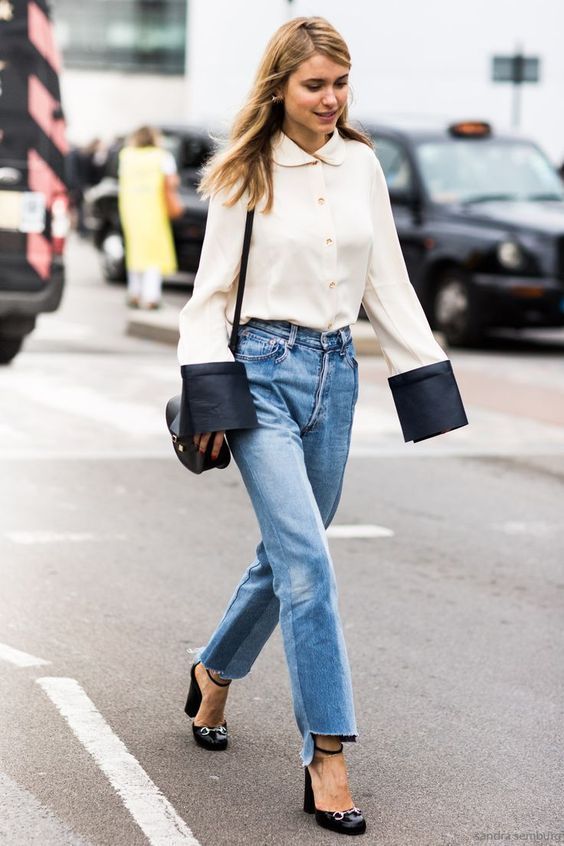 To stun, stride with confidence like this fashionista. Simple yet stylish with exaggerated cuffs. Don't worry if the cuffs are those regular ones, a two tone jean will steal the show, so go ahead pair a classic white shirt with your uneven two toned jean!
Thinking what should I pair my straight fit jean with? In doubt? Here is a simple explanation, throw in any top wear, cami, blouse, off-shoulder, cold shoulder, shirt you name it, you will rock it for sure.
Taking you further, I have created some sets using Closet love to cater to different occasions and give you an a personal insight on how a straight jean can be worn for varied occasions!
Wearing a sneaker with straight fit is always a homerun score. Pair your favourite straight fit denim with a sneakers, a classic tee and a tartan plaid jacket for an overall effortless, "I have some errands to run" day
Panelled straight fit jean, bold red slipon block, crisp white shirt, royalty inspired cropped jacket, stackable bracelets are the pieces to sought for when you want to blend bold, feminity and rugged for a friday casual workwear or to a party
No matter what the occasions you have to attend, if you have to run errands, attend a meeting in a casual setting, or getting ready for work or a night out with your besties, half of the job will be taken care of, Assured! when you take your all-rounder straight fit denim for a ride with their better halves accessorizing it right and take a back seat
Create such stunning pairs with your virtual planner Closet Love
You can follow Alemm @ Alemm