Picking out what to wear in the morning can be challenging, but thankfully, black can save the day. It is timeless for a reason—it goes with everything, you can wear it anywhere, and it never goes out of style. Sometimes coming up with new outfit ideas is all about going back to the basics and learning how to reinvent them. So, here's our guide on how to revamp your black ensembles for the "nothing to wear" days.
1. Be creative by contrasting texture and proportion on your outfit.
We're all about monochromatic outfits, but black can get a little boring so vary the fabrics, textures, and proportion in your outfit. To add some romantic yet modern flair to your style, think of contrasting your peplum top with boxy culottes like fashion blogger Annabelle Fleur did. You may also play with flared trousers, free-flowing dresses, A-line skirts, cut-out tops, architectural jackets, and even festive details to add some interest to your all-black outfits. Like fashion blogger Sydne Summer, spice up your basic black sweater with a fringed leather skirt, adding some festive vibe to your looks.
2. Sequins and fur make your simple pieces party-ready.
It's no secret little black dress is a classic choice for parties. But if you want to add drama without adding some pop of color, go for textured ensembles like fur or sequined pieces. Like fashion blogger Kristina Bazan, turn your typical black shorts into a party-ready outfit with a sequined top styled with heels and clutch. Or, make everything a bit unexpected yet classy with a chic blazer teamed with a fur skirt-like fashion blogger Annabelle Fleur did. Remember, details play an in important role in your outfit, especially in a monochromatic look.
3. Play with neutral hues, timeless prints, or creative details on your outfit.
If you're a woman on the go, chances are you have an arsenal of timeless staples, and your closet is filled with neutrals ranging from black, white, gray, and navy. Like fashion blogger Jessica Ricks, add some sophistication to your typical black-and-white combination with a gray coat, making your black jeans and basic top dressier. If you wish to incorporate trendy details in your wardrobe, start with neutral yet creative details, so you can easily incorporate the look into your outfits. A cut-out midi skirt in black-and-white shades can be easily paired to any blacktop you have, over a trendy floral print or a novelty pattern.
4. Add some pop of color with accessories.
Another foolproof way to jazz up an all-black outfit is to add some accessories that give a bit of contrast. Like fashion blogger Marta Pozzan, add some elegance to your black jumpsuit with a classy red clutch and statement heels. As a rule of thumb, jewel tones like emerald green, ruby red, amethyst purple, and sapphire blue can add some sophistication to your black pieces, while neon shades and other color-blinding shades will add some quirky vibe to your looks.
Image by Marta Pozzan
5. Wear statement jewelry.
A black outfit is the perfect backdrop for showing off something special, so if you usually wear dainty jewelry with it, think again. A little black dress can transform into party-ready dress with statement jewelry, so think of bold chokers, chandelier earrings, long strands of pearls, chunky bracelets, or even an extravagant gold necklace. You can even get a trendy look by layering your necklaces, making your mesh top and jeans a bit unexpected like fashion blogger Micah Gianneli did.
6. Team your black ensembles with bold-colored pieces.
If you have a classic fashion personality, yet looking for creative ways to revamp your black ensembles, go for pieces in metallic or jewel-toned shades. Like fashion blogger Kristina Bazan, wearing a metallic gold top with your typical black skirt, beanies, and tights will easily transform your outfit for weekends. Or, add some feminine flair to your black lace top with a purple skirt styled with a sequined clutch and metallic silver pumps like fashion blogger Jessica Ricks did.
7. Incorporate some colorful and trendy prints.
Prints can add some personality to your looks so think of leopard, stripes, checkered, houndstooth, and polka dots as a classic option, as well as geometric shapes, novelty prints, and floral patterns for a trendy look. Like fashion blogger Blair Eadie, think of a rainbow-colored striped skirt that can spice up any black top, and wear color-coordinating accessories. For a more feminine look, go for floral patterns that will look chic and sassy when worn with black. By having an arsenal of black ensembles and printed pieces, looking put-together every day will be a breeze.
8. Get a theme for your outfit.
If you're not a fan of pops of color or statement jewelry, you can still make your black ensembles fashion-forward. Simply get a theme for your outfit whether it's glamorous, sporty-chic, gothic, bohemian, or romantic to add some interest. Like fashion blogger Jennifer Selmanovic, go may even go for an editorial-inspired look—a black dress styled with a statement belt, chandelier earrings, beaded jacket, and gold-trimmed heels. Or, reinvent the sporty style by making it more edgy with a leather baseball cap, mesh jacket, corset top and leggings—contrary to the bomber jacket-and-sneakers combination.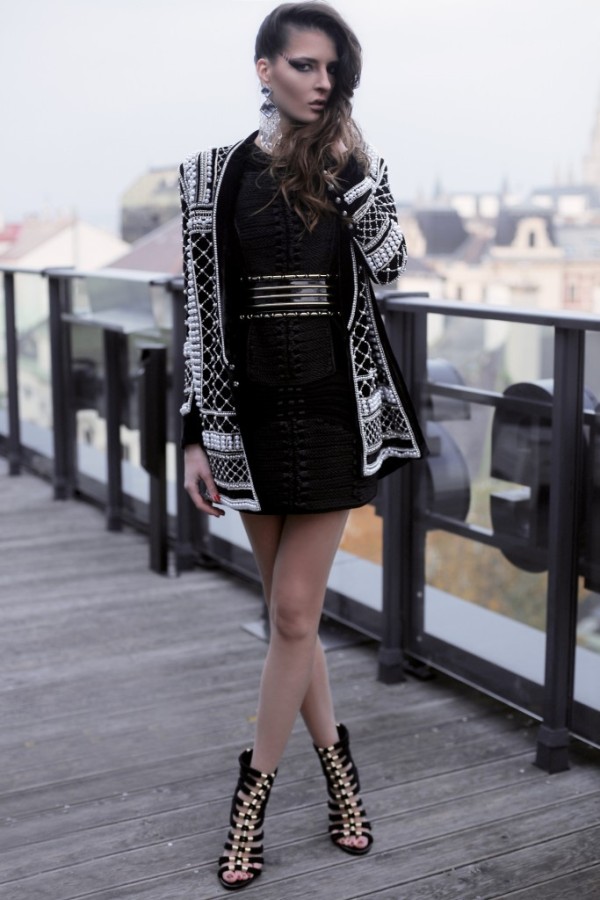 Image by Desjen
9. Layer your black ensembles like a pro.
Colder months can be the perfect time to get creative on your black ensembles. By layering your black pieces, you're giving a new look to your outfits while keeping you warm and chic. Is your sheer black maxi dress feels inappropriate in the colder months? Top it with a leather jacket like fashion blogger Annabelle Fleur did, extending the wear of your summer dress into the fall months. Or, get a modern and trendy look by wearing your sleek vest with a lace top styled with a knotted belt-like fashion blogger Micah Gianneli did.
10. Make a fashion statement with black.
Whether you're heading to a formal party or a girls' night out, black ensembles can save your look. Think of tuxedo blazers, corset tops, and leather ensembles that can make a sexy yet edgy statement. If you love wearing head-to-toe black, you may also reach for a statement coat to make your simple outfit pop. Like fashion blogger Doina Ciobanu, top your sexy lace top and jeans with a leopard-print cape styled with architectural heels. Leopard print adds some personality to an otherwise simple outfit.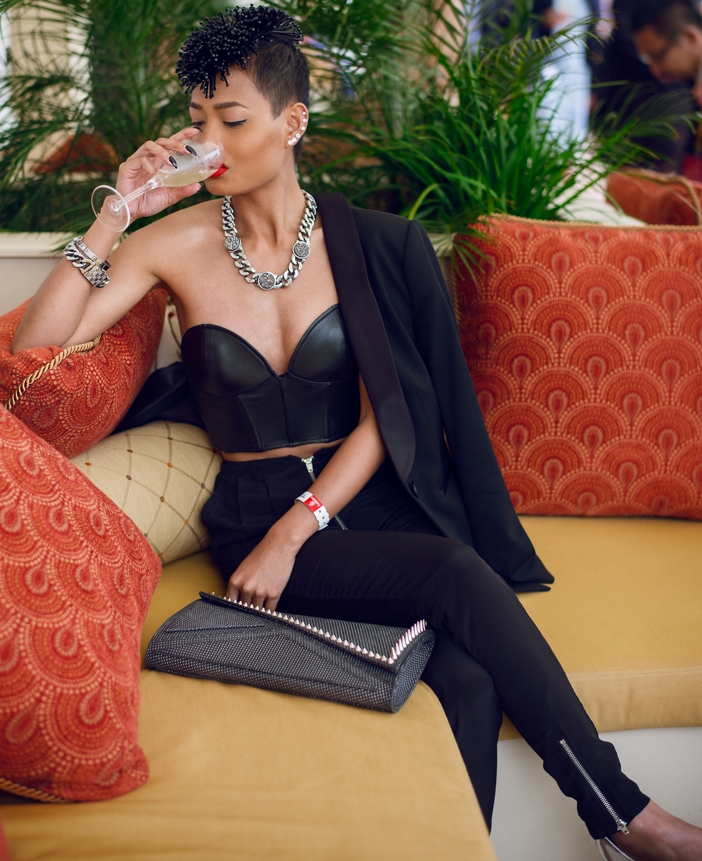 Image by Micah Gianneli
The next time you're faced with a closet full of clothes yet nothing to wear, go for black! At the end of the day, what you wear says a lot about who you are—so be creative and stylish with black.