Relying on comfortable pieces like jeans and boots makes getting dressed in the morning effortless. However, if you usually wear your jeans with a plain tee and a jacket, maybe it's time to change up your look. Is tucking your jeans into boots officially out of style? Scroll down to see how the pros are pulling it off, so you'll keep your favorite outfit combination fresh every single time.
1. Stick to a monochrome color scheme to elongate your frame.
Going monochromatic on your outfit will streamline your look and help create an illusion of height. So, match the color of your jeans with your boots to make your legs appear leaner and longer, especially if you choose high-heeled boots. Like fashion blogger Jessica Ricks, you may even opt for black high-waist jeans that can trick the eye into thinking you're taller by elongating your lower body. If you do mix shades on your outfit, pair lighter hues with lighter colors and darker hues with darker colors to avoid high contrast. This way, you wouldn't break the monochromatic shades that create a vertical line and elongate your frame.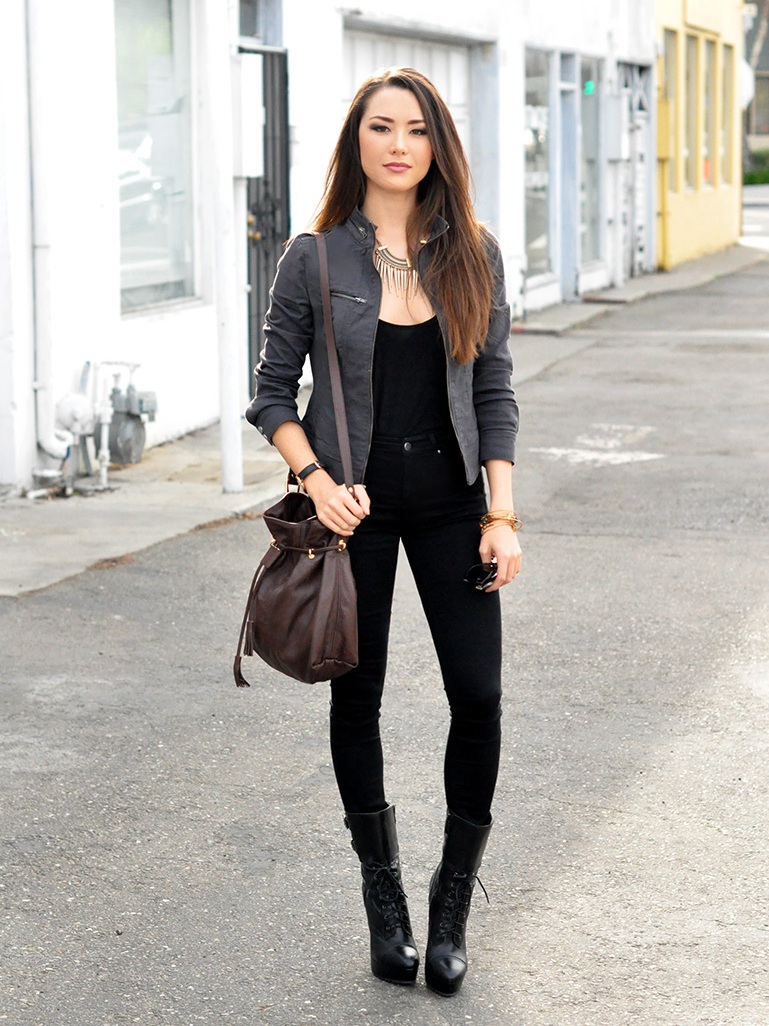 Image by Hapa Time
2. Roll the cuff of your jeans to show off your ankle boots.
Wearing jeans with ankle boots isn't always easy—too long, and you get an unflattering bunched look; too short and bare skin can look awkward with your pants. To make a pair of jeans hit right at the ankle, simply cuff the hem about-two inches outwards, which will work with boyfriend and straight-leg jeans. Like fashion blogger Annabelle Fleur, go for heeled ankle boots for an added height offsetting the tomboyish look of cuffed jeans. On the other hand, folding the hem of skinny jeans inward will give you a more polished look. Since the fold is invisible, it will look like you've had your jeans tailored to the perfect length, rather than cuffed.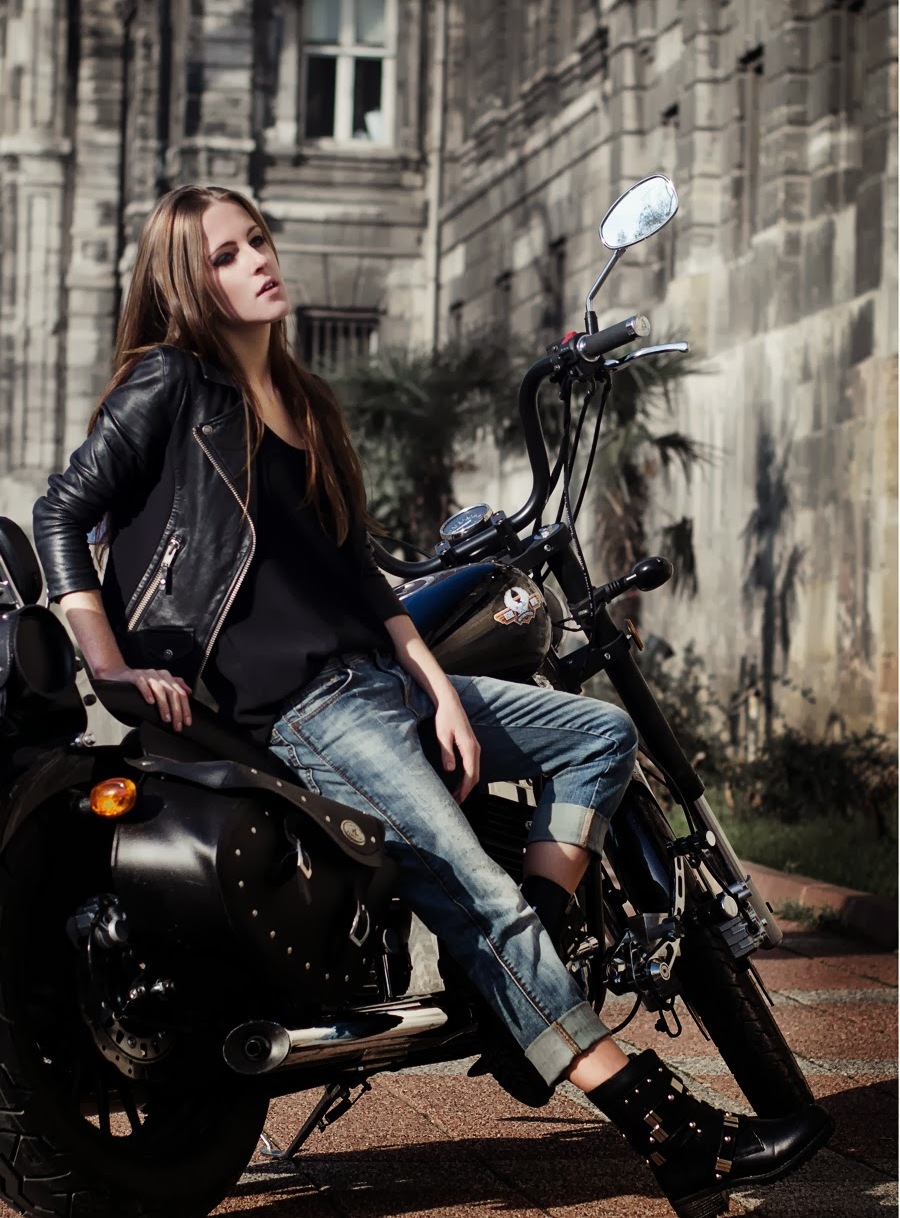 Image by My Neon Rock
3. Get a sexy look with over-the-knee boots teamed with skinny jeans.
Since over-the-knee boots work best with jeans that fit snugly, wear them with a pair of skinny jeans for a sexy-chic look. Like fashion blogger Erica Hoida, you may opt for a breezy blouse to balance the structure of your outfit and add some flair with a skinny scarf and a structured coat. This way, you'll still get a sexy look without showing some skin in the colder months.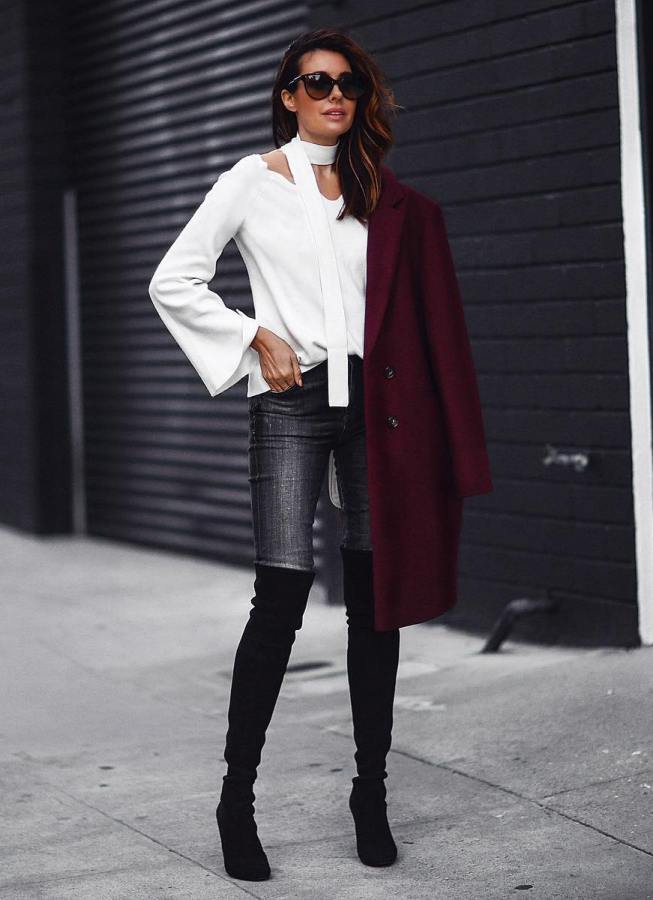 Image by Fashioned Chic
4. Update your look with cropped flare jeans teamed with pointy boots.
Flared denim trend is making a comeback, but if you're not a fan of a '70s style, opt for a cropped style that will look modern with pointy boots. Like fashion blogger Jenny Tsang, wear your cropped flare jeans with a pair of pointy boots to add some structure to your outfit, making your look more modern and urban. You may also opt for ankle boots with a slightly longer shaft so they disappear under the hem of the jeans.
Image by Tsangtastic
5. Dress up your casual look with a statement coat.
Stiletto ankle boots can work from the boardroom to the bar, but if you love comfort over style, simply top your casual outfit with a statement coat. Like fashion blogger Amy Jackson, make your office outfit in the colder months more practical yet comfortable with jeans and over-the-knee boots topped with a camel coat. You may even think of chic blazers and printed coats in classic shades. The key is to keep your outfit crisp and tailored, so you'll stay fashionable without bending office rules.
Image by Fashion Jackson
6. Keep your acid washed jeans classy with stiletto boots.
The acid wash denim trend is known for its marbled and mottled stone washed look in the '80s, but if you're not a fan of a throwback look, dress up your jeans with stiletto boots. Like fashion blogger Kristina Bazan, opt for darker acid wash jeans that will look classy and sophisticated with a pair of stiletto boots and a structured coat.
7. Think of equestrian-inspired look.
A pair of riding boots can add some equestrian vibe to your overall look since it's the footwear that horseback riders wear when riding horses. Instead of wearing breeches, simply resort to a pair of skinny jeans and a tailored blazer teamed with riding boots for a modern take on riding ensembles. But if you wish to make it look more casual, simply opt for thigh-high boots that can be worn with a striped top, blue jeans, and chic bomber-style jacket like fashion blogger Annabelle Fleur did.
Image by The Viva Luxury
8. Get a trendy look with colored jeans.
Bold hues can add some pop of color and interest to your look. If you have a trendy fashion personality, don't be afraid to trade your standard old blue or black jeans for colored jeans. You may even diversify your wardrobe with different colored jeans ranging from pastel, jewel-toned, and even neon shades. But, to keep things from getting too loud, stay low-key on your top and accessories. Like fashion blogger Veronica Popoiacu, tone down your colored jeans with camel toned ensembles and boots. Balance is the key to rock the colored jeans trend, but you can also wear unexpected color combinations for a more creative look.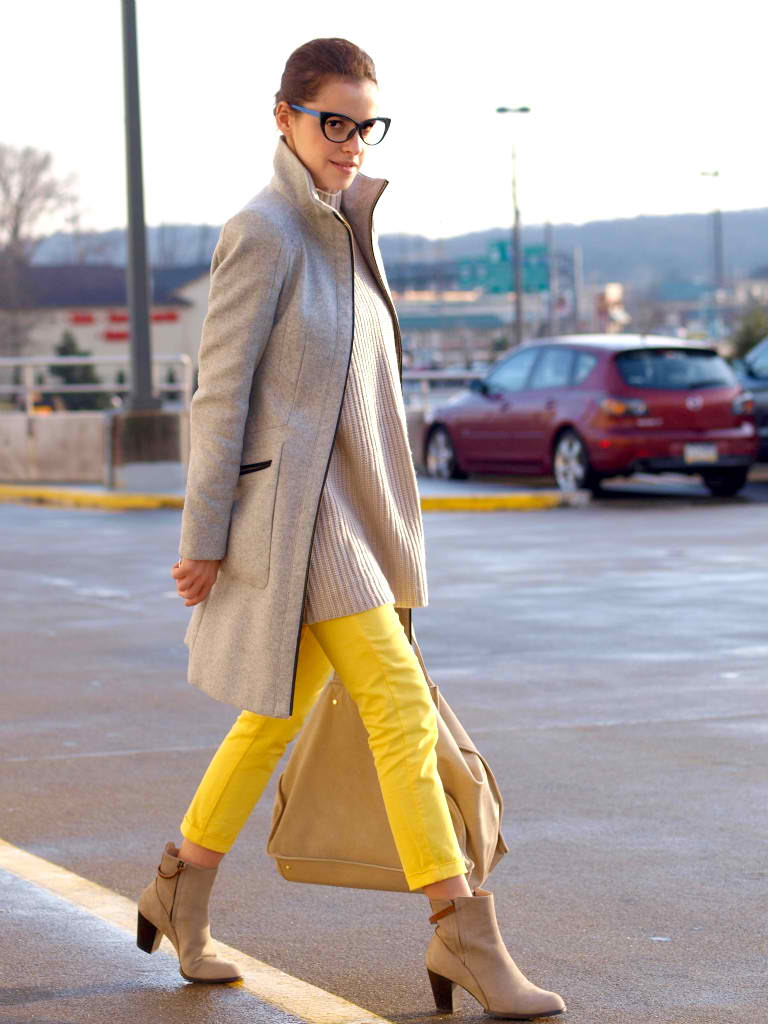 Image by Bitter Sweet Colours
9. Match the color of your boots with your accessories.
Keeping your accessories matched will give you a polished and cohesive look. Think of hats, scarves, belts, bags, and even sunglasses that match your boots. Like fashion blogger Jessica Ricks, you may go for a burgundy shade on your accessories to keep everything sophisticated and sleek, but don't be afraid to go for bold colors to show off your trendy personality too.
10. Let your boots make a style statement.
Whether you're a fan of bold colors or eccentric prints, statement boots can add some personality to your street look. Like fashion blogger Chiara Ferragni, you may add some quirky flair to your casual outfit with a pair of patent boots with eccentric details. Or, keep everything edgy with animal print boots that will go well with your favorite jeans and cardigan like fashion blogger Masha Sedgwick did.
Image by The Blonde Salad
When worn together in harmony, jeans-and-boots combination makes a bold statement. By keeping these styling tricks in mind, you'll always make your weekend look fashion-forward yet effortless.